Far-right US bloggers banned from entering UK for Woolwich rally

Pamela Geller and Robert Spencer forbidden entry on grounds their presence would 'not be conducive to public good'
by Matthew Taylor
The UK Guardian
June 26, 2013
https://www.legal-project.org/4170/far-right-us-bloggers-banned-from-entering-uk-for
Far-right US bloggers banned from entering UK for Woolwich rally
Pamela Geller and Robert Spencer forbidden entry on grounds their presence would 'not be conducive to public good'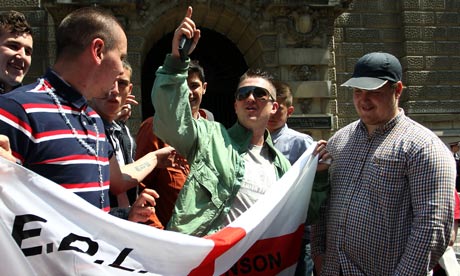 English Defence League leader, Tommy Robinson, (centre) said the decision was 'embarrassing for this so-called land of democracy'. Photograph: Gareth Fuller/PA
Two prominent US bloggers who were due to speak at a far-right rally in Woolwich on Saturday have been banned from entering the UK, the Home Office has said.
Pamela Geller and Robert Spencer, who set up Stop Islamization of America, and run the website Jihad Watch, have been forbidden from entering the country on the grounds their presence would "not be conducive to the public good".
The far-right English Defence League was planning a march on Saturday ending in Woolwich, south-east London, where soldier Drummer Lee Rigby was murdered last month. Geller and Spencer were both set to attend.
A Home Office spokesman said: "We can confirm that Pamela Geller and Robert Spencer are subject to an exclusion decision … We condemn all those whose behaviours and views run counter to our shared values and will not stand for extremism in any form."
Matthew Collins, from anti-extremism group Hope Not Hate, which campaigned for Geller and Spencer's exclusion, said the organisation was "absolutely delighted" by the decision.
"These two are among some of the most extreme anti-Muslim activists in the world. They've nothing to contribute to life in this country … They only wanted to come here and help the EDL stir up more trouble. Britain doesn't need more hate even just for a few days."
Keith Vaz, chairman of the home affairs select committee, who had raised concerns about Geller and Spencer coming to the UK, said: "This is the right decision. The UK should never become a stage for inflammatory speakers who promote hate."
On both their blogs, Geller and Spencer called their bans "a striking blow against freedom" and said "the nation that gave the world the Magna Carta is dead".
The EDL leader, Tommy Robinson, said the Home Office decision was "embarrassing for this so-called land of democracy and freedom of speech".
The home secretary's announcement came amid news of the latest anti-Muslim attack which saw racist graffiti – including swastikas and the initials EDL, NF, KKK – daubed on a £2.5m mosque being built in Redditch, Worcestershire.
Police said they were doing everything possible to catch those responsible and had stepped up patrols in the area to reassure the local community.
Related Topics: Hate Speech Laws, Islamist Violence or Threats of Physical Violence Against Speech, Lawfare in the West, OIC & Defamation, Pressure Tactics Against Free Speech, Sharia in the West, United Nations & Other International Groups, Willful Blindness & PC Problems receive the latest by email: subscribe to the legal project's free mailing list