The Current Struggle for the Soul of Academia
by Johanna Markind • Jun 1, 2015 at 10:54 am
https://www.legal-project.org/blog/2015/06/the-current-struggle-for-the-soul-of-academia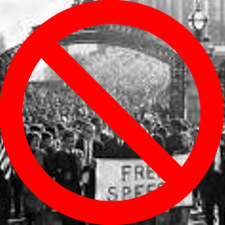 How did the Free Speech Movement of yesteryear give birth to the non-free speech movement of today?
Recently, there has been an encouraging amount of attention paid to the issue of free speech on the college campus. Some of it specifically discusses speech about Islam or Islamism, but a lot doesn't. The refusal to discuss radical Islam is, unfortunately, not an isolated event but one facet of political correctness in academia. The heckler's veto that is so obvious in situations like the Charlie Hebdo massacre and American newspapers' refusal to print Muhammad cartoons is an extreme expression of a phenomenon all too common in American universities today, of speech being policed and 'trigger warnings' required because a reader or listener takes offense to it.
The people voicing concerns are not new to the issue, but the amount of focused attention they have paid to it in just the last few months is noteworthy. Here's a suggested 'reading list' on the issue:
- The progressive ideas behind the lack of free speech on campus, by Wendy Kaminer;
- Council on American-Islamic Relations says anti-Muslim college speakers "create a hostile learning environment for Muslim and Arab-American students," by Eugene Volokh;
- The Silencing: How the Left is Killing Free Speech, by Kirsten Powers. Powers includes discussion of the college campus although the book isn't limited to that forum. She discusses the book here;
- Les Bollinger's 2015 Commencement Address to Columbia University, of which he is president, also discussed the importance of free speech. Apparently, his talk was (at least partly) in response to an op-ed that appeared in the student newspaper advocating changes to the required-reading canon, which was itself a response to a student's discomfort with reading Ovid because of its discussion of a rape.
Bollinger is no newcomer to the issue of free speech. For example, at his urging, Columbia recently created an award for Global Freedom of Expression and Information, honoring judges and lawyers around the world who defend and uphold freedom of expression. He may want to consider adding an award for the person who most contributes to freedom of expression on a US college campus.
- The Trigger-Happy Generation, by Peggy Noonan, is also in part a response to Columbia's Ovid controversy.
- Universities Should Be Unsafe For Political Correctness, by Alan M. Dershowitz;
- Although it was already a year ago, I am giving honorable mention here to the Commencement Address William G. Bowen delivered last year to Haverford College. In pinch-hitting for Robert Birgeneau, who withdrew after a group of Haverford students and professors purported to impose insulting conditions on Birgeneau's scheduled appearance, Bowen rebuked both the protestors and Birgeneau, for allowing himself to be cowed.
It is, perhaps, unsurprising that so many people who have been schooled in an atmosphere that elevates feelings of victimhood above truth would rather avoid the subject than admit both the right and the necessity to say openly and straightforwardly that Islam needs reform, and that many who call themselves mainstream (CAIR comes to mind) are nothing of the kind.
Here's to hoping that the above speakers make an impact.
Related Topics: Pressure Tactics Against Free Speech receive the latest by email: subscribe to the legal project's free mailing list This text may be reposted or forwarded so long as it is presented as an integral whole with complete and accurate information provided about its author, date, place of publication, and original URL.