Follow-Up on the U.S. Supreme Court, Speech Regulation, and Islam
by Johanna Markind • Aug 17, 2015 at 3:29 pm
https://www.legal-project.org/blog/2015/08/follow-up-on-the-us-supreme-court-speech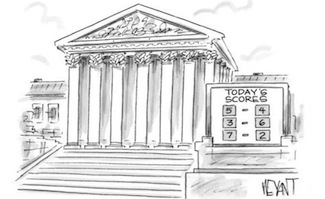 Back on June 23, I blogged about Reed v. Town of Gilbert, a Supreme Court decision issued last term. The case concerned a challenge to an ordinance that regulated outdoor signs based on the type of speech they conveyed. Writing for the majority, Justice Thomas wrote that the regulation was improperly content-based in violation of the First Amendment. "Innocent motives do not eliminate the danger of censorship presented by a facially content-based statute," he wrote.
The New York Times has an update and analysis on the impact of this "sleeper" case. Explaining the decision, Adam Liptak writes:
Justice Clarence Thomas, writing for six justices, used the occasion to announce that lots of laws are now subject to the most searching form of First Amendment review, called strict scrutiny.

Strict scrutiny requires the government to prove that the challenged law is "narrowly tailored to serve compelling state interests." You can stare at those words as long as you like, but here is what you need to know: Strict scrutiny, like a Civil War stomach wound, is generally fatal.

"When a court applies strict scrutiny in determining whether a law is consistent with the First Amendment," said Mr. Abrams, who has represented The New York Times, "only the rarest statute survives the examination."
The key move, in Liptak's view, is Justice Thomas's expansion of what counts as content-based.
The court used to say laws were content-based if they were adopted to suppress speech with which the government disagreed.

Justice Thomas took a different approach. Any law that singles out a topic for regulation, he said, discriminates based on content and is therefore presumptively unconstitutional.
The impact of the elevated review standard has already been felt.
Though just two months old, the decision has already required lower courts to strike down laws barring panhandling, automated phone calls and "ballot selfies."
No indications yet about what if any impact the case may have on discussion of radical Islam, such as recent disputes about whether posters critical of Islam may be placed on municipal buses.
Johanna Markind is associate counselor at the Middle East Forum
Related Topics: Free Speech Legal Case receive the latest by email: subscribe to the legal project's free mailing list This text may be reposted or forwarded so long as it is presented as an integral whole with complete and accurate information provided about its author, date, place of publication, and original URL.