The Legal Project, an activity of the Middle East Forum, works to protect the right in the West to freely discuss Islam, radical Islam, terrorism, and terrorist funding. [More]
Freedom of Speech Is Under Assault in America: Book Review of The Silencing: How the Left Is Killing Free Speech, by Kirsten Power
by Johanna Markind • January 5, 2016 at 7:55 am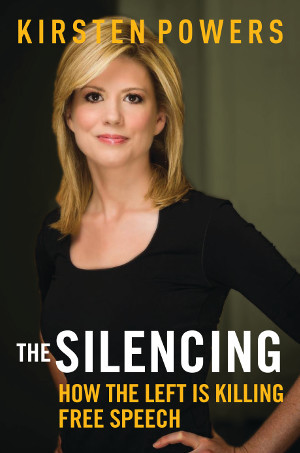 Besides being intrinsically interesting and well-written, Kirsten Powers' book, The Silencing, adds useful perspective to the struggle against Islamist suppression of speech about radical Islam. Powers notes the attempt to squelch discussion of Islam, but places it in a broader context.

Full Text...
Sixth Circuit Rejects Muslim 'Heckler's Veto' Against Christian Group
Proselytizing Christians have a right to demonstrate at Muslim festival.
by Johanna Markind • November 13, 2015 • PJ Media
Christians around the world have faced persecution in recent years. While it is most severe in places like Iraq, Iran, Pakistan, Nigeria, and Sudan, it occurs in other places as well.
In Dearborn, Michigan, for example.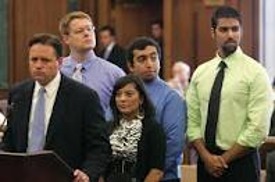 Dearborn used to host an annual Arab International Festival. In 2010 and 2012, Christian missionaries were, respectively, arrested and threatened with sanctions while proselytizing festival attendees.

Full Text...
Free Speech Under Fire at UK University and Art Show
by Johanna Markind • September 29, 2015 • American Thinker
Previously published under the name "Free speech loses to Islamists at UK universities."
Two events last week crystallized the grave danger facing freedom of speech in the United Kingdom.
Warwick U. Students' Union Censors Speaker Against Radical Islam, Then Caves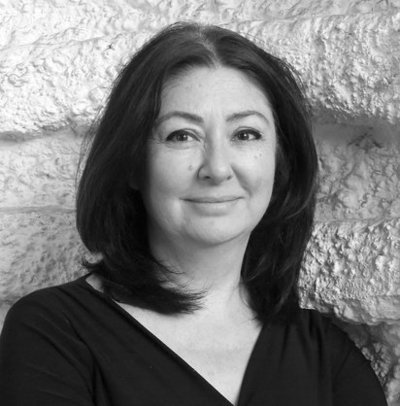 Full Text...
Quebec Law Would Stifle Criticism of Radical Islam
by Tarek Fatah • August 25, 2015 • Toronto Sun
Originally published under the title "Quebec Law Would Stifle Free Speech."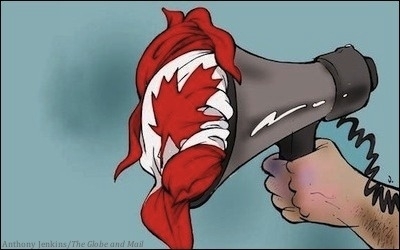 While the rest of Canada is being force-fed the Duffy Senate "scandal," in Quebec a proposed law that will label any criticism of Islam or Islamism as "hate speech" is being quietly pushed through the National Assembly.
Bill 59 will permit Muslims to make complaints to the Quebec Human Rights Commission (QHRC) against anyone critiquing Islam or Islamism, triggering lawsuits for hate speech.

Full Text...
Follow-Up on the U.S. Supreme Court, Speech Regulation, and Islam
by Johanna Markind • August 17, 2015 at 3:29 pm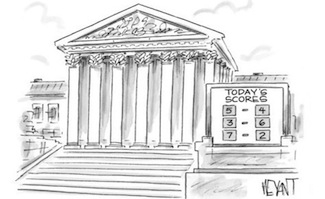 Back on June 23, I blogged about Reed v. Town of Gilbert, a Supreme Court decision issued last term. The case concerned a challenge to an ordinance that regulated outdoor signs based on the type of speech they conveyed. Writing for the majority, Justice Thomas wrote that the regulation was improperly content-based in violation of the First Amendment. "Innocent motives do not eliminate the danger of censorship presented by a facially content-based statute," he wrote.

Full Text...
Should Israel Criminalize Insulting Muslims?
by Daniel Pipes • July 28, 2015 at 2:20 pm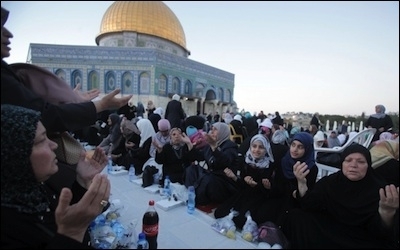 Originally published under the title, "A 'Pig' Incident in Jerusalem."
As most non-Muslim visitors to the Temple Mount in Jerusalem can attest, groups of screaming female banshees accost them, yelling Allahu akbar and other Islamic slogans, making for a highly unpleasant experience. (Called the Murabitat, or the Steadfast, they are funded by an Islamist organization.)
On schedule, this recurred on July 23, when a Jewish group visited the holy area.
Worse, the banshees followed the group outside the Temple Mount and into a surrounding street, harassing and threatening the group.

Full Text...
Muslim Teacher Loses Claim School Violated His Free Speech Rights and Discriminated Against His Religion
by Johanna Markind • July 20, 2015 at 6:05 pm

On July 16, 2015, the federal Sixth Circuit Court of Appeals rejected a wrongful termination suit against the Columbus City Schools by a Muslim teacher claiming retaliation for some religiously-motivated comments and actions.  The suit was brought by Abdurahman Haji, an elder in the Somali community of Columbus, Ohio.  Haji was hired in November 2005, to teach English as a Second Language at a public school, and discharged in April 2008.
Briefly, Haji's practice was to leave school early every Friday in order to lead prayers at his mosque.  On his departure, he would not sign out from school.  Usually, he would return to school after services, but if they ran long he would not return.

Full Text...
The U.S. Supreme Court, Speech Regulation, and Islam
by Johanna Markind • June 23, 2015 at 4:36 pm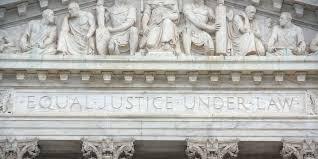 Last week, the United States Supreme Court decided two cases – Walker v. Texas Division, Sons of Confederate Veterans and Reed v. Town of Gilbert – dealing with free speech, which have the potential to impact the right to discuss Islam.

Full Text...
Good Taste Offered as Rationale for Suppressing Muhammad Cartoons
by Johanna Markind • June 5, 2015 at 11:33 am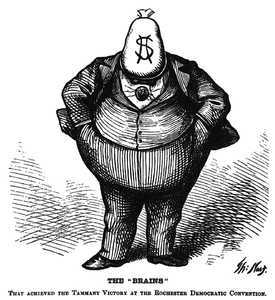 "Boss" Tweed, head of the corrupt late-19th century leadership of New York City known as "Tammany Hall," is reputed to have had a particular aversion to cartoonist Thomas Nast. Why? Because Nast exposed Tweed's corruption in a pictorial form that was easily understood and effective – by political cartoons. "Stop them damn pictures. I don't care what the papers write about me," were Tweed's instructions to his minions.
Why do people express serious concepts in cartoons? Because they are effective in getting the message across. Some cartoons are in good taste, some in bad taste.

Full Text...
The Current Struggle for the Soul of Academia
by Johanna Markind • June 1, 2015 at 10:54 am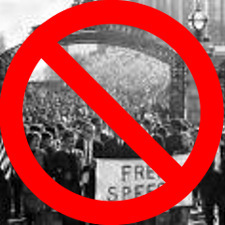 Recently, there has been an encouraging amount of attention paid to the issue of free speech on the college campus. Some of it specifically discusses speech about Islam or Islamism, but a lot doesn't. The refusal to discuss radical Islam is, unfortunately, not an isolated event but one facet of political correctness in academia. The heckler's veto that is so obvious in situations like the Charlie Hebdo massacre and American newspapers' refusal to print Muhammad cartoons is an extreme expression of a phenomenon all too common in American universities today, of speech being policed and 'trigger warnings' required because a reader or listener takes offense to it.
The people voicing concerns are not new to the issue, but the amount of focused attention they have paid to it in just the last few months is noteworthy. Here's a suggested 'reading list' on the issue:

Full Text...
Ninth Circuit Reverses Course in Garcia v. Google: YouTube Video 'Innocence of Muslims' Back in Business
by Johanna Markind • May 27, 2015 at 10:45 pm
On May 18, 2015, a federal appeals court reversed course from its earlier opinion suppressing Nakoula Basseley Nakoula's 14-minute YouTube video, 'Innocence of Muslims.'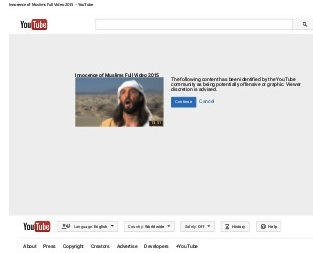 The video, purportedly a trailer for a movie, was created by dubbing film shot under the name 'Desert Warrior' into a diatribe against Muhammad. Eventually, an Arabic version was posted on YouTube. After the September 11, 2012, attack on the US consulate in Benghazi, the Obama Administration blamed the assault on Muslim protests about this selfsame video, and asked YouTube to remove it.

Full Text...
YouTube Kowtows to Lawfare in Australia:
Billions for Tribute, But Not One Penny for Defense?
by Johanna Markind • May 21, 2015 • American Thinker
Originally published under the title "Billions for Tribute, But Not One Penny for Defense?"
On May 18, 2015, YouTube – or really its owner, Google, won a major victory for free speech. A U.S. appeals court rejected an actress's attempt to prevent YouTube from showing a movie trailer critical of Muhammad that has been blamed for 'causing' riots in the Muslim world on September 11, 2012.
Sadly, when it comes to criticizing Islam outside the U.S., Google is much less brave. It appears to have capitulated to Islamist lawfare in Australia without firing a shot in defense.

Full Text...
145 American Writers Think Honoring Charlie Hebdo is 'Islamophobic'
by Phyllis Chesler • May 1, 2015 • Breitbart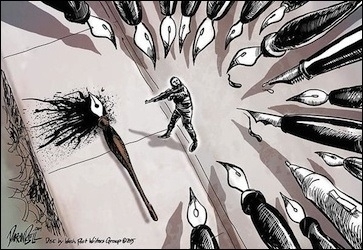 The PEN award to the survivors of theCharlie Hebdo massacre has drawn some very distinguished fire. On April 26, 2015, six PEN "table hosts," all highly regarded writers, publicly protested PEN's decision to give an award for "Freedom of Expression Courage" to these courageous survivors. This award, to be given on May 3rd, is separate from the literary prizes.

Full Text...
by Andrew Harrod • January 30, 2015 • FrontPageMagazine
A French appeals court on December 18, 2014, overturned a hate speech conviction involving Christine Tasin's condemnation of Islam. Tasin's encouraging victory, won with Legal Project aid, demonstrates that not all threats to free discussion of Islam are violent like the subsequent Paris jihadist Charlie Hebdomassacre.

Full Text...
by Deborah Weiss and Andrew Harrod • November 20, 2014 • FrontPageMagazine.com
Even amidst death threats and Islamist violence, Flemming Rose remains a staunch advocate for freedom of speech. In a Europe with ever-increasing speech restrictions, he argues for the equivalent of a global First Amendment.

Full Text...
A Lesson on Free Speech and Sharia in Knoxville
by Andrew Harrod • November 3, 2014 • FrontPage Magazine
A recent legal victory by Freedom X upheld the right of private citizens to discuss openly sharia law at a Knoxville, Tennessee, high school. "This is a victory for free speech," Freedom X's PresidentWilliam J. Becker rightly explained, in yet another instructive example of Islamists seeking to subvert the United States Constitution's First Amendment.

Full Text...
Is CAIR Lying about a Rally for Hamas?
by Daniel Pipes • August 22, 2014 • Gatestone Institute
A "Stop the Bloodshed in Gaza" rally in downtown Miami on July 20 featured aggressive Islamist chants typical of anti-Israel events. In English, the demonstrators yelled "We are Hamas!" and "We are Jihad!" (as can be seen and heard here). In Hebrew, a Hamas partisan screamed at an Israel-supporter, "Son of a bitch" and "Go to Hell!" and made an obscene arm gesture. In Arabic, the crowd chanted the infamous "Khaybar, Khaybar, oh Jew, Muhammad's army will return" (a reference to a massacre of Jews under the auspices of Islam's prophet in A.D. 629).
As I say, just a typical anti-Israel demonstration, and far from the worst. Typical – except that some of its sponsors desperately seek respectability.

Full Text...
Imran Firasat Gets International Support
by Fred C. Gjestad • August 1, 2014 • Dagen
(Translated via Google Translate)
ISLAM CRITICISM
- It seems as if destined here. This is whole episode is a fraud and conspiracy, says Samuel Nunberg. director of the American nonprofit Middle East Forum. Islam critic Firasat now has broad international support in the fight against extradition to Spain.
- There would have been no case against him if he had criticized Christianity or Judaism, this happens because he criticizes Islam, says the American lawyer Samuel Nunberg in imagined Mediterranean East Forum to day.
American supporters believe the case against Imran Firasat sets a terrifying precedent in Europe.
- There was a court hearing yesterday that confirmed the intention to disclose Firasat to Indonesia, which has indicted him for murder. Prosecutors demanded custody and got support for it, even though we argued the contrary, writes lawyer Alexandr Voronyuk in an email to supporters.

Full Text...
Council on American-Islamic Relations Seeks to Undermine the Land of the Free
by Andrew Harrod • June 17, 2014 • Breitbart Big Peace
The fact pattern and references to anti-Islamic "hate speech" sound depressingly similar to so many other cases abroad. Yet this incident occurred courtesy of the Council on American-Islamic Relations' (CAIR) Chicago chapter, showing how precious and precarious American free speech rights are.

Full Text...
Spain to Deport Pakistani Refugee for Criticizing Islam
by Soeren Kern • June 6, 2014 • Gatestone Institute
"Okay, you Muslims, use violence, but we will continue to make films. One day, one of us will lose." — Imran Firasat.
Firasat argued that the expression of his views about Islam fall within the constitutional rights of free speech.

Two dissenting judges signed a statement in which they ask whether the source of the danger to national security is in the actions of Firasat or in the reactions of Islamic fundamentalists.
The Spanish Supreme Court has ruled that a political refugee should be deported because his criticism of Islam poses "a danger to the security of Spain."
The May 30 ruling, which upholds an earlier decision by a lower court to revoke the refugee status of a Pakistani ex-Muslim named Imran Firasat, showcases how the fear of Muslim rage continues to threaten the exercise of free speech in Europe.

Full Text...
The United Kingdom's Continuing Koran Censorship
by Andrew Harrod • April 8, 2014 • Frontpage Magazine
Mark Stephenson confessed at a February 28, 2014, United Kingdom trial "threatening behavior" while watching a December 7, 2013, Birmingham soccer game. Stephenson's behavior involved Koran desecration, merely the latest case demonstrating deferential British censorship with respect to Islam's holy book.
According to one news account, a woman gave pages of a Koran taken from her handbag to Stephenson and about 20 other soccer fans during the game. Stephenson ripped the pages and pretended to burn them with a lighter while saying to a stadium worker that he had the "Muslim bible, we hate Muslims." Another worker overheard fans shouting "Koran, Muslims and burning."

Full Text...
Prejudice's Latest Victim: Islam
by Andrew Harrod • March 5, 2014 • Family Security Matters
"It is therefore discriminatory to equate Islam with Islamist terrorism and undifferentiated to attribute violence from Islamist fundamentalists and terrorists to Islam," the Swiss Press Council (SPC) assessed in a November 13, 2013, opinion.  The SPC thereby condemned an admittedly shoddy March 29, 2013, Basler Zeitung (BZ) article with a value judgment having troubling implications for free speech concerning Islam.

Full Text...